Herman (Һэрман Herman) is the main character in Jewelpet Candado, he is also the main mascot for franchise Jewelpet Candado. He is also confirmed that he is a legit Jewelpet but considered by Sanrio as not canon. Since Herman is belong to another company, Maharlika Studios.
Herman is also a good friend of Rossa, Anby and Lifun . He also rolls as Lollip's older sister. Herman's favourite food is Doritos and his favourite drink is Mountain Dew and he eat and drink it like a real Prankster Gangster.
Both Luea and Topaz have a huge crush on him, but Herman remain undecided.
Appearance
Herman is a red furred fox who wears a Gold pearl necklace with a piece of Hematite. His fur is white on his surroundings of his mouth, nose and chin. Herman's tail is also white in the tip.
Jewel Charm

In
Jewelpet
Franchise, Herman is the only non-canonical
Jewelpet
to have a known Jewel Charm. His Jewelpet charm is an oval with a white circle, yellow pearls, and a hematite in the middle with a blue ribbon. It has a Jewelpet Letter H which stand to his name and on the blue ribbon, his name was written in
Jewelpet Language
.
Foreign Appearance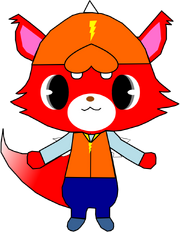 Herman was seen as a cameo in the first episode of
Rilu Rilu Fairilu: Fairy Warriors
. But he was given a larger screen role in the sixth episode of the series. Where Herman decided to go to
Washington DC
 and meet
Lip
.
However the old artwork is still plan to be use.